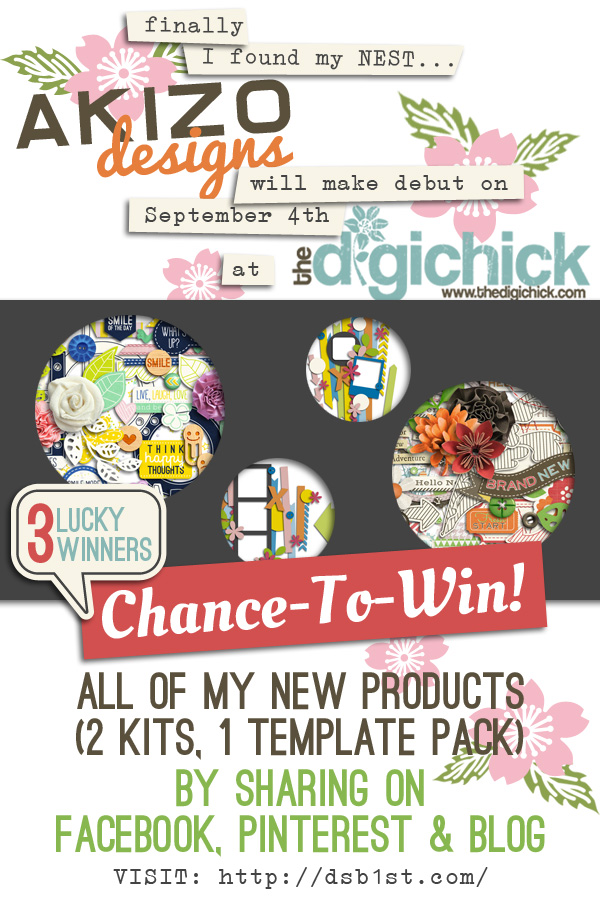 Hi there, how are you doing? I have big news today!!
Finally, I found my NEST…I will open my store at The DigiChick on September 4th! Wooooooooot!
Come celebrate with me 😀
Chance to Win!
So, it's fun time before opening! I'll be giving away ALL of my new products (2 kits, 1 template pack. yes, you can get everything!) to 3 lucky winners. You are entered to WIN in Quadruple.
1. Comment on this post
2. Share on Facebook
3. Pin or Re-pin this image on Pinterest
4. Share this image on your Blog
NOTE
Please leave a comment for each time you share. (If you did the 3 of them, just leave 3 comments HERE. Random winners will be chosen by comment number)
If you leave a comment on my blog for the first time, I'll MANUALLY approve your comments. Please just a moment 🙂
I'll announce 3 lucky winners on September 5th. And send email to winners.
entry ends: (Easten Time) Sep 4th, Thu 23:59 / (Japan Time) Sep 5th, Fri 12:59
Good Luck!
———————-
こんにちは、今日はニュースがあります!
とうとうお店を開くことになりました!もちろんデジタルスクラップブッキングのお店です!9月4日、The DigiChickにて販売をはじめます。どうぞご贔屓にお願いします 🙂
Chance to Win!
ということで、開店記念イベントです!抽選で3名様に、キット2つとテンプレートパック1つをセットにしてプレゼントしまーす!!(DigiChickのお店経由になります)
応募方法は4つあって、全部こなすと当たる確率は4倍です。
1. この記事にコメントを残す
2. フェイスブックでシェアする
3. 上の画像をPinterestにPINする
4. 上の画像をブログでシェアする
NOTE
エントリー毎にコメントを分けてください。(例えば、上記のうち3つ行った場合、コメントはこの記事に3つ書いてください。抽選はコメントナンバーで行います)
このブログに初めてコメントする場合、コメントは承認制となっています。すぐに表示されなくても心配しないでくださいね。
締め切りは、日本時間 9月5日 金曜日 12:59です。その後当選者3名を発表し、メールを送ります。
Good Luck!
—————————————————
edited: THIS CONTEST IS CLOSED!
Thank you for all of your comments! The winners will be announced in the next blog post 🙂
追記:応募期間は終了しました
ご参加ありがとうございました!当選者は次のブログ記事にて発表しまーす 🙂