Hi there! It's Publisher's Picks Today!
I choose my oldie products that In The Box 04 | Templates with a fantastic 50% OFF sale that runs for 3 DAYS ONLY, from Tuesday through Thursday 🙂
こんにちは。The Digital Pressでは毎週「Publisher's Picks」というセールを行っていて、セレクトアイテムが50% OFFで販売されます。今週は、In The Box 04 | Templates がセール中です。火水木の3日間(日本時間の金曜13時頃まで)ですので、どうぞお見逃しなく 🙂
---
In The Box 04 | Templates combines a simple box design with rough stitching. The stitches are recolorable and will fit any kit. There is a sense of unity, so it is perfect for double pages (two-page spread) layouts.
In The Box 04 | Templates は、シンプルなボックスデザインにテキトーなステッチを合わせたシリーズです。ステッチは色の変更が可能で、どんなキットにも合います。統一感があるのでダブルページ(見開き)にもぴったりです。
---
Inspirations
---
You can see more samples at Facebook, Pinterest, and Instagram. Please upload your layouts also!
他にもフェイスブック、 ピンタレスト、インスタグラムにてレイアウトを見ることができます。みなさんもレイアウトを作ったらぜひギャラリーにupしてくださいね。
初めてのお買い物の際はこちらの記事を参考にしてくださいね。
---
NOVEMBER 2022 Challenge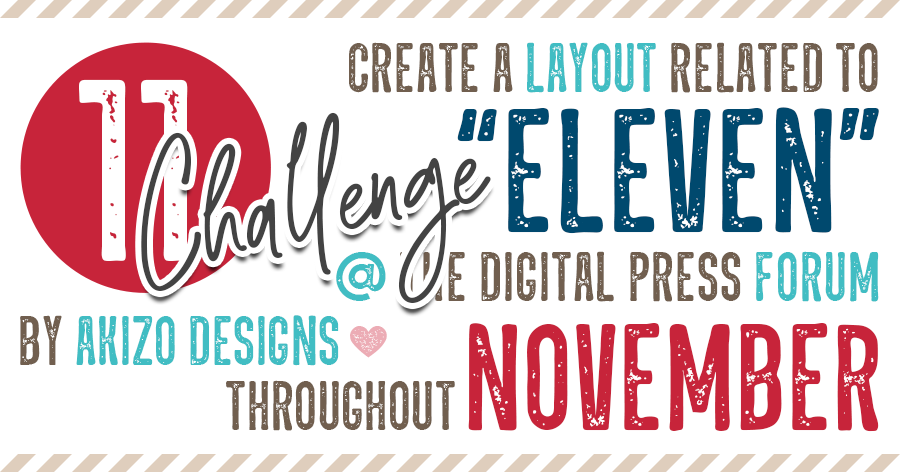 I am holding the ELEVEN CHALLENGE in The Digital Press forum throughout NOVEMBER.
The theme of this month's challenge is to create a new layout related to "11" / "ELEVEN".
11 things I want to do before I die
11 wish list for Christmas
November memories
Layout using 11 photos
Layout with photos of 11 dogs
Layout about Soccer team
…etc.
And the prize is… Anyone who exclusively uses products by AKIZO DESIGNS will be entered to receive $5 to spend in my shop. Additionally, Anyone who completes ALL 6 of the challenges at TDP this month will receive 50% OFF one entire purchase any time during the following month.
Let's share your ELEVEN ideas!
---
今月TDPのフォーラムにて、ELEVEN CHALLENGE を開催しています。
今月のチャレンジのお題は、「11」「ELEVEN」に関するレイアウトを作ることです。 🙂
死ぬまでにしたい11のこと
クリスマスに欲しい11個のリスト
11月の思い出
11枚の写真を使ったレイアウト
11匹のわんちゃんが写っている写真でレイアウト
サッカーに関するレイアウト
…などなど
プライズは… AKIZO DESIGNSのプロダクトのみ使って参加してくださった場合、$5 クーポンが当たる抽選にエントリー。更に、TDPでは今月6種類のチャレンジを開催していますが、そのすべてに参加すると、翌月1度だけ使える 50% OFF クーポンが必ず貰えます。
ユニークなアイデア、ぜひシェアしてくださいね!
---
Inspiration
I made 11 divisions with stitches.
ステッチで11の区切りを付けました。
---
Thank you for reading and have a happy scrapping!