Hi there! It's already March… Today, I have Time For Cake | Collection that was sold in Pennysaver Sale last month. If you missed it, you can get it with special price through weekend 🙂
こんにちは、早くも3月ですね。先月の Pennysaver Sale で販売していた「Time For Cake」シリーズは気に入って頂けましたでしょうか。先月買い逃してしまった方に Time For Cake | Collection のお知らせです。日曜日までスぺシャル価格となっておりますので、どうぞお見逃しなく 🙂
---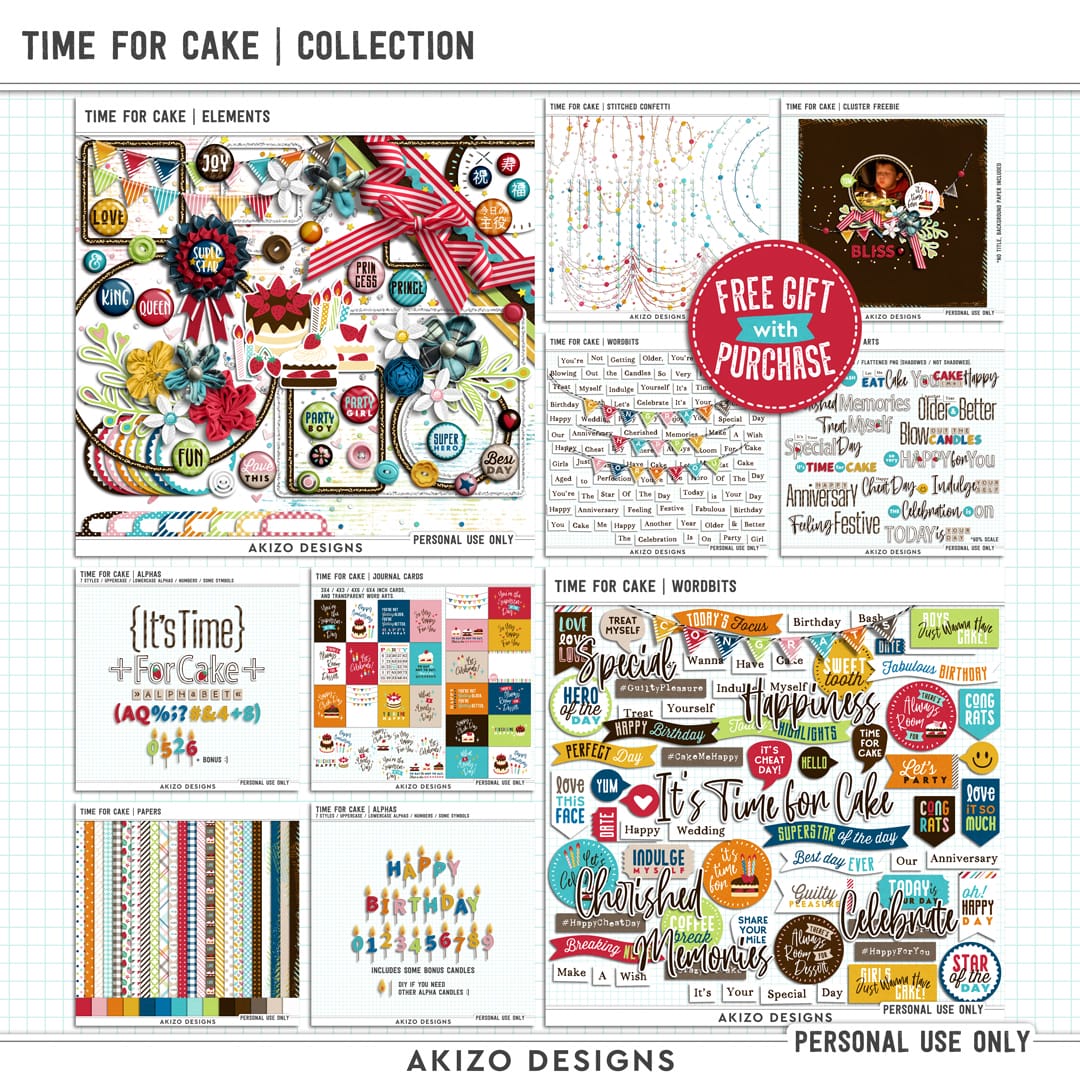 The title of my new collection is "Time For Cake". Sometimes / often / every day or when celebrating something you want to eat cakes and sweets, right? These days, I tend to stay home so I have more and more opportunities to eat that, and my smartphone album is full of pictures of sweets 😀 After spoiling myself, look at the pictures and reflect on them. But I will forget tomorrow!
新コレクションのタイトルは「Time For Cake」です。お祝いごとや普段でもケーキや甘いものを食べたい時がありますよね。最近は籠りがちなのでますますそんな機会が多く、スマホのアルバムはお菓子の写真ばっかり 😀 ぱーっと自分を甘やかしたあとは写真を見て反省しつつ、明日には忘れよう~
---
Collection Contains:
Click image to enlarge | 画像をクリックすると拡大します
---
Free With Purchase Goodies
If you buy the Time For Cake | Collection, you can get these items for FREE 🙂
Time For Cake | Collection には下記のアイテムが無料で付いてくるのでお得です 🙂
---
And I made Time For Cake | Quickpages for busy you! Contains both "with title" and "without title".
写真を入れるだけですぐに出来上がるお手軽アルバム、Time For Cake | Quickpages を作りました。「タイトル付き」「タイトルなし」の両方が入っています。クイックページの使い方はこちらをご覧くださいね。
---
INSPIRATIONS
Click image to enlarge | 画像をクリックすると拡大します
Get the Time For Cake | Collection