Hello there! Are you enjoying International Scrapbooking Day 2023 festivities? Akizo Designs is having a 50% OFF sale now through Sunday, May 8 (around midnight ET). Don't miss the chance 🙂
こんにちは。インターナショナル スクラップブッキング デー 2023 楽しんでいますか?
Akizo Designs では、8日(日本時間 9日のお昼頃)まで全品 50% OFF セール を開催しています。気になるものがありましたら、この機会にぜひお求めください 🙂
---
Re-Release – Four Templates
To celebrate iNSD, I added 4 template in the shop. Be sure to check out yesterday's post as I am adding more products!
iNSDを記念して、4つのテンプレートをショップに追加しました。他にも追加していますので、昨日の記事もぜひご覧ください!
---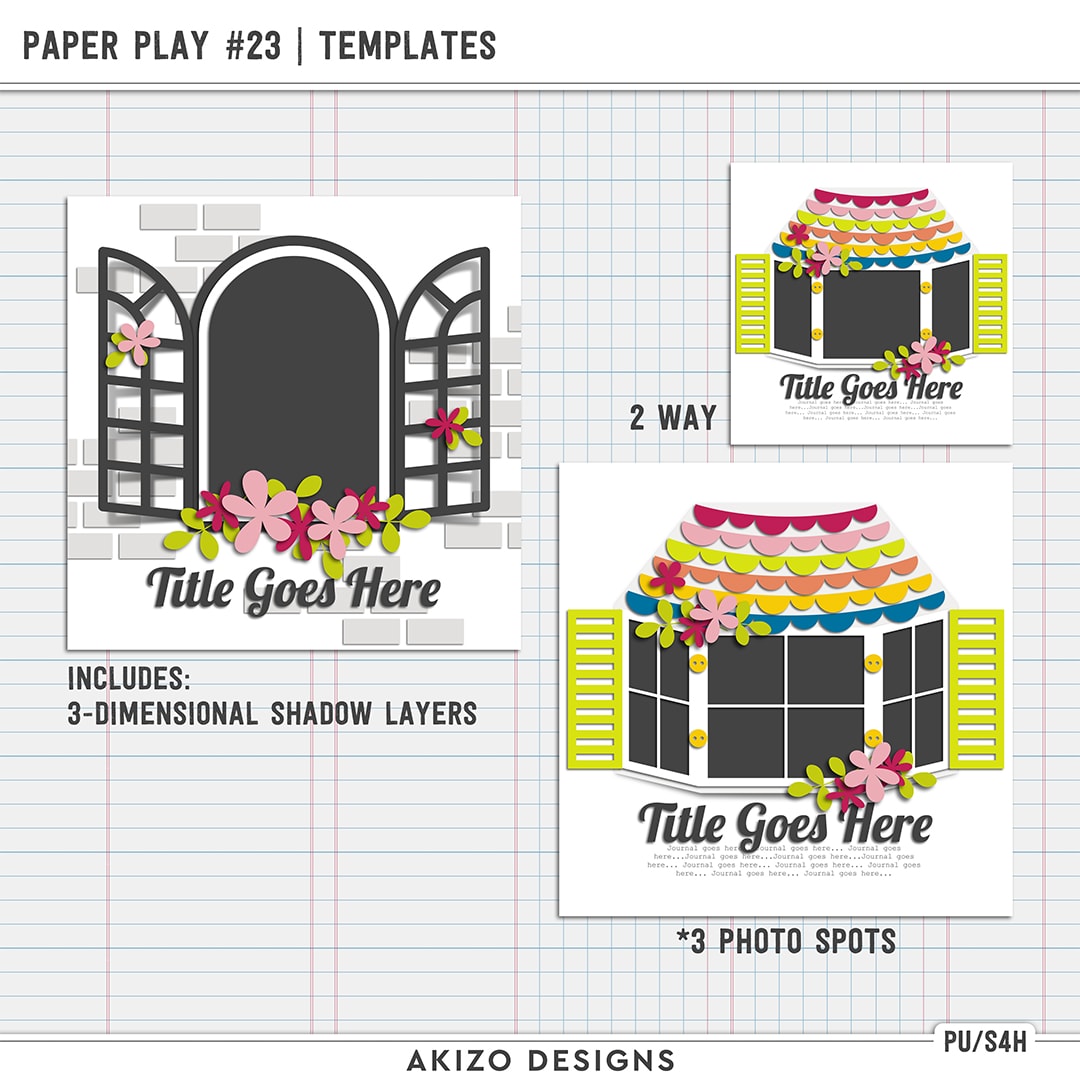 Paper Play 23 | Templates incorporated WINDOWs into the design. It is good for layouts of various themes such as I Love Home / Moving / Our Home / Home for the holidays, etc.
Paper Play 23 | Templates は、デザインに窓を取り入れました。おうち大好きテーマや、引越し・マイホーム・帰省など、いろんなテーマのレイアウトにお使いくださいね。
---
"Paper Play" is a series that enjoys combining patterns and plain papers.
Paper Play 24 | Templates can be used in 12 inch squares or is designed to fit double pages. Coordinating multiple pages using the same kit is awesome!
"Paper Play" は、パターンや無地のペーパーを組み合わせて楽しむシリーズです。
Paper Play 24 | Templates は、12インチ正方形で使っても良いし、ダブルページでもぴったりはまるデザインにしてあります。同じキットを使ってコーディネートするとかわいいですよ。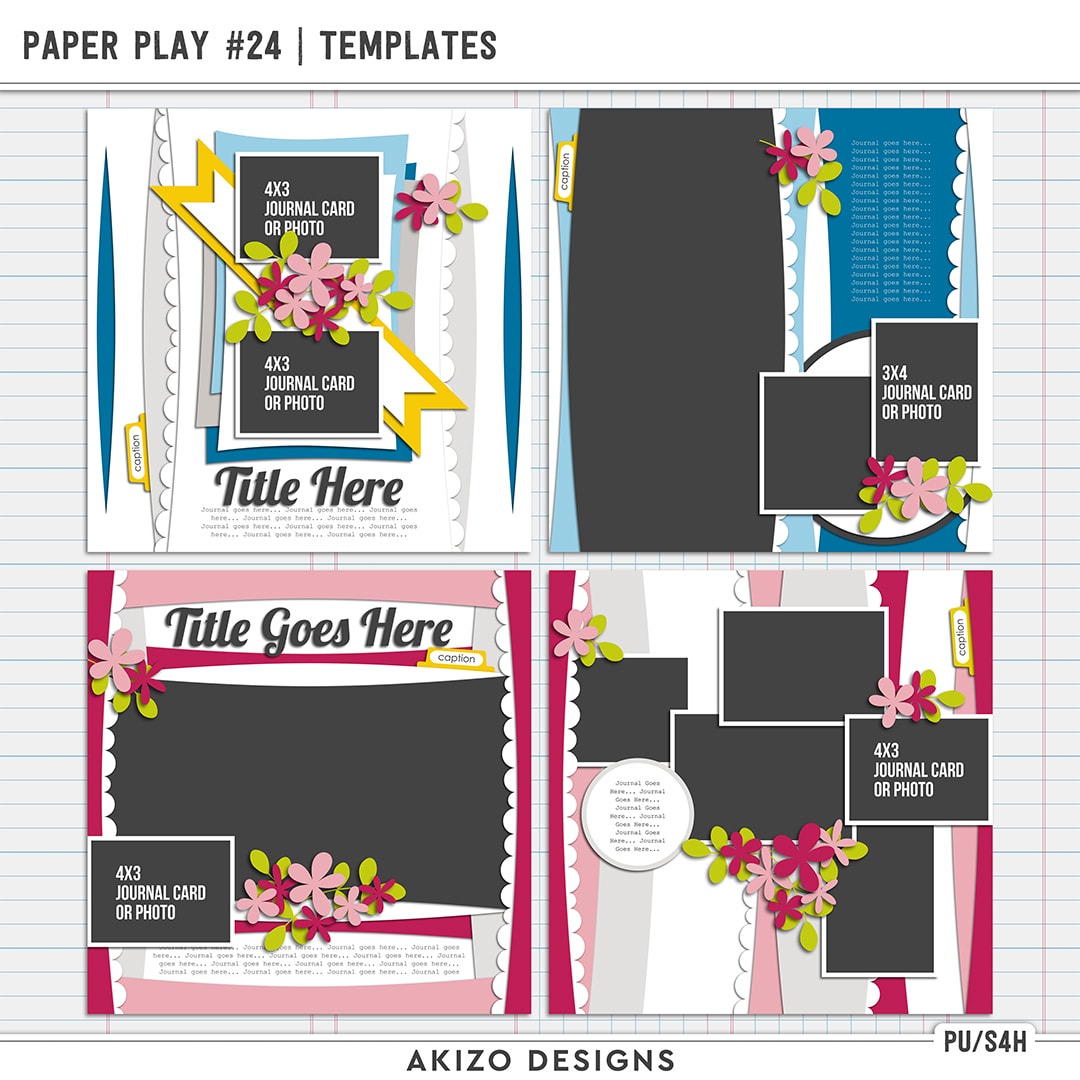 ---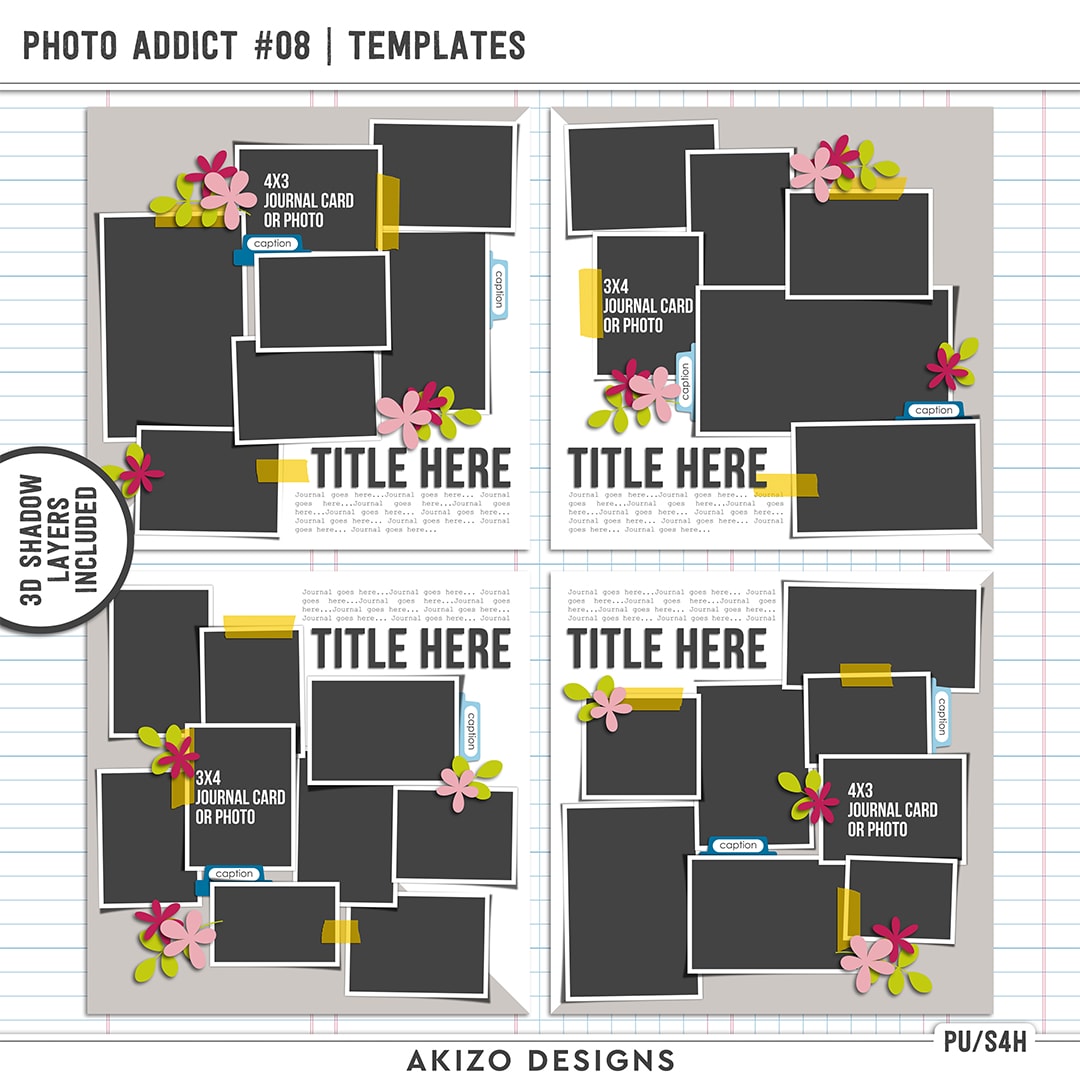 Photo Addict 08 | Templates is the most versatile, minimal design templates with three-dimensional shadows. Combining a page that maximal decor with 1-2 photos and a page that minimal decor with a lot of photos will be a wonderful album 🙂
一枚のレイアウトに写真をたくさん入れるとごちゃっとしがちですが、Photo Addict 08 | Templates は、立体的な影が付いたミニマルデザインなので美しく仕上がります。どんなキットにも合うので、いろいろ活用してくださいね。写真少なめでガシガシ飾るページと、たくさんの写真をあっさり飾るページを組み合わせると、素敵なアルバムになります 🙂
---
Torn Paper Play 05 | Templates is a series that digitally enables the technique of tearing paper by hand, which is commonplace in Paper-Scrapbooking. If the bold pattern papers are layered, it becomes too flashy, but the white part becomes a buffer zone and each pattern stands out 🙂
Torn Paper Play 05 | Templates は、ペーパースクラップブッキングでは当たり前の、紙を手で破いてアクセントにする簡単テクニックをデジタルでも出来ちゃうシリーズです。パターンペーパーを重ねると煩くなりがちですが、白い部分が緩衝地帯(箸休めスポットとも言う)になってそれぞれの色柄が映えます 🙂
---
INSPIRATIONS
Click image to see the Kit / Template used. 画像をクリックすると使用したキット・テンプレートが表示されます