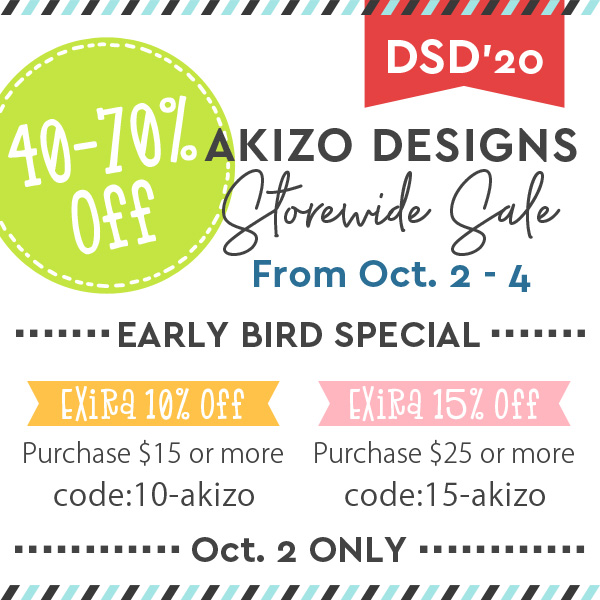 Hello there! It's October and let's celebrate Digital Scrapbooking Day 2020! I'm having a 40-70% off sale now through Sunday, October 4th.
And Early Bird Special! When you purchase any of Akizo's products $15 or more, you can take an extra 10% off by using coupon code: 10-akizo. OR Any purchase of $25 or more, extra 15% off by using coupon code: 15-akizo. Oct. 2 only. Don't miss the chance! If you subscribe to my Newsletter, please be sure to check that as well 🙂
 こんにちは。10月の第一土曜日は、デジタル スクラップブッキング デー!是即ち祭!DSDを記念して、私の店でも10月4日の日曜日まで40-70% off セールを行います。
 恒例の Early Bird まとめ買い企画! 15ドル以上のお買い上げで更に10%オフ(クーポンコード:10-akizo)、または 25ドル以上のお買い上げで更に15%オフ(クーポンコード:15-akizo) になります。カートのクーポンコード欄に、上記のコードを入力して反映ボタンを押してくださいね。1日のみ(日本時間 10月3日の21時頃まで)の限定企画です。この機会をお見逃しなく!ニュースレターを購読してくださっている方は、必ずそちらもチェックしてください 🙂
---
And we are having Challenges and Games in our forum. I'm hosting the This AND That Game there. Come visit us and get the shopping coupon 🙂
 また、フォーラムでは、チャレンジやゲームを開催中です。私は今回 This AND That Game を開いています。「Fish AND Chips」とか、「Black AND White」等、一般的に「AND」でくくれる言葉を並べる簡単な遊びです。抽選でお買い物クーポンが当たります!ぜひ遊びに来てくださいね 🙂
---
Recommended Products
---
Templates
Thank you for reading and have a happy shopping!