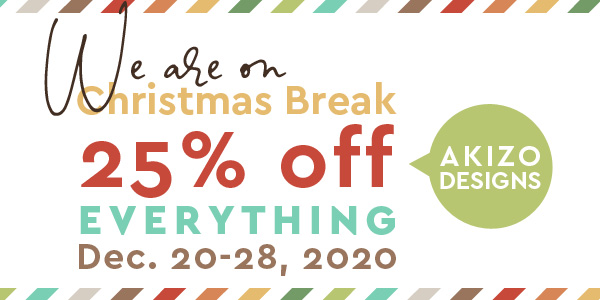 Hi there, it's only 10 days left this year. It's been a tough year for everyone, but first of all, I would like to thank gods that me and my family for being able to spend time safely. I hope that 2021 will be a world where everyone can live comfortably even a little.
THANK YOU very much to everyone who came here for the first time, who came many times, who purchased my products. I look forward to playing with you next year 🙂
Now, it's time for The Digital Press Shop's annual 1 week holiday. While we're on break, we've marked everything in the shop down and you'll find all of our products 25% OFF… Don't miss the chance!
---
 こんにちは、早や今年もあとわずかとなりました。全ての人にとって大変な1年となりましたが、まずは自分と家族が無事過ごせたことに感謝したいと思います。2021年は少しでも暮らしやすい世の中になりますように。
 デジタルスクラップブッキングに出会って初めてこちらに遊びに来てくださった方、何度も来てくださった方、お買い上げくださった方、本当にありがとうございます。また来年もどうぞよろしくお願いいたします 🙂
 さて今週から来週にかけてThe Digital Press Shopは、クリスマス休暇となっております。休暇期間中はすべての商品が 25% OFF ですので、何かお買い忘れがある場合は今のうちに、どうぞお見逃しなく!
---
年賀状の準備はお済ですか?
You will save 30% on the New Year Greetings 2021 | Quickpages + Add-on if you purchase through Dec. 28!
For more detail, please refer to this post 🙂
 New Year Greetings 2021 | Quickpages + Add-onは、12月28日まで 30% off です!年賀状の準備はお早めにー 🙂
 詳しくはこちらの記事をご参照くださいね 🙂
---
You can see more samples at Facebook, Pinterest, and Instagram. Please upload your layouts also!
 他にもFacebook、 Pinterest、インスタグラムにてレイアウトを見ることができます。みなさんもレイアウトを作ったらぜひギャラリーにupしてくださいね。
 初めてのお買い物の際はこちらの記事を参考にしてくださいね。
Merry Christmas and Happy New Year!