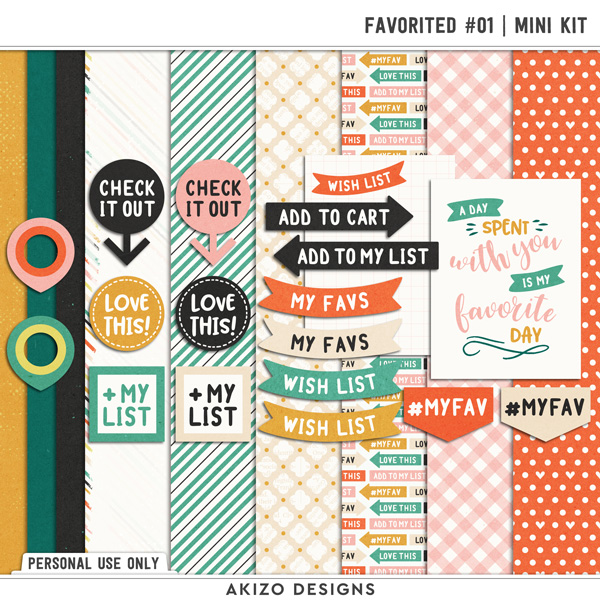 edited——————–
The Freebie Has Expired.
配布期間は終了しました
————————–
Hi there! It's February and here comes DigiScrap Parade again! It has been a long time since I joined DSP last 🙂
The title of this parade is [Favorited]. I hope you enjoy my mini kit for documenting your lovely memories!
 こんにちは。早くも2月、DigiScrap Paradeの季節がやって来ましたね!久しぶりに参加 🙂
 今回のタイトルは「Favorited」で、お気に入りをかわいく飾れるミニキットを制作しました。楽しい思い出をレイアウトしてくださいね。
Thanks for participating in the February 2020 DigiScrap Parade! If you're following the Parade route from start to finish, you should have arrived here from Designed by Soco and your next stop will be Rachel Etrog Designs. If you get lost along the way, simply head back to the main DigiScrap Parade site to view the master list and get back on track 🙂
 DigiScrap Parade にご参加のみなさん、ありがとうございます!順番通りに辿っていたら、Designed by Soco からこのブログに着き、次はRachel Designs になります。もし順番がわからなくなったら、DigiScrap Parade siteにあるマスターリストから辿ってみてくださいね 🙂
---
One More Freebie?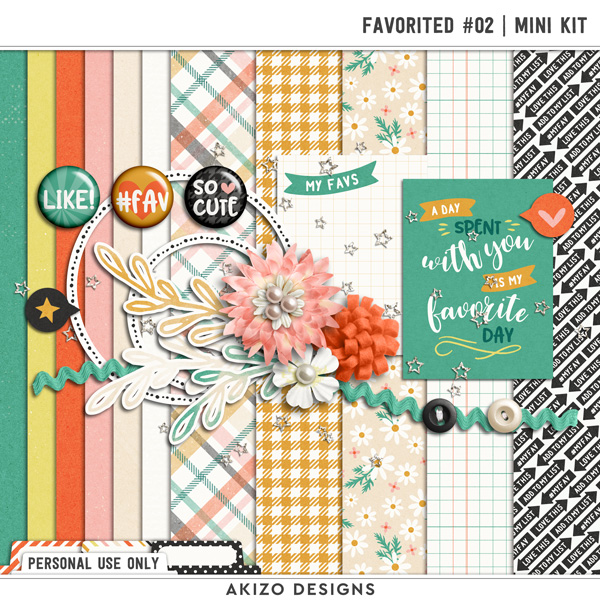 Template: Recycle 02 | Templates *$1 now!*
edited——————–
The Freebie Has Expired.
配布期間は終了しました
————————–
Don't forget to get the Favorited 02 | Mini Kit from me! It's for my Newsletter Subscribers Only. If you want to download the freebie, please sign-up the newsletter until February 23, and download it until February 29. You can download it in the NEXT newsletter, so just a moment 🙂
Already subscriber? You can download it via today's newsletter!
 Favorited 02 | Mini Kitは、Newsletter登録者onlyのギフトです。このギフトは期間限定のため、ニュースレター登録は 2月23日 まで、ダウンロードは2月29日までにお済ませください。登録日以降に発行されるニュースレターからダウンロードできますので、しばしお待ちください 🙂
 以前から登録されていますか?では今日送信されるニュースレターからダウンロードしてくださいね!
---
February 2020 Challenge

I'm hosting a Paper Love Challenge in February. Come join us and win a FREE collection of your choice from Akizo Designs. And everyone will get $3 coupon as a prize for participation!
 今月TDPのフォーラムにて、Paper Love Challenge をホストしています。参加者の中から抽選でお好きなコレクションを差し上げます。参加賞 $3クーポン もあります!ぜひ遊びに来てくださいね。
---
Only $1 All Month!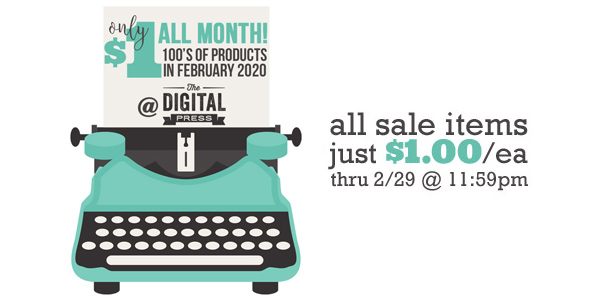 In The Digital Press, we are having a Pennysaver sale now! All sale items are just $1.00 during February. $1.00 sale items will be released sequentially, stay tuned!
 The Digital Pressでは、今月1か月間、$1.00セールを開催しています。セレクトアイテムが全部1ドルです!セールアイテムは順次追加されますので、このブログやお店をチェックしてくださいね!
Thanks for reading. Have a Happy Scrapping 🙂