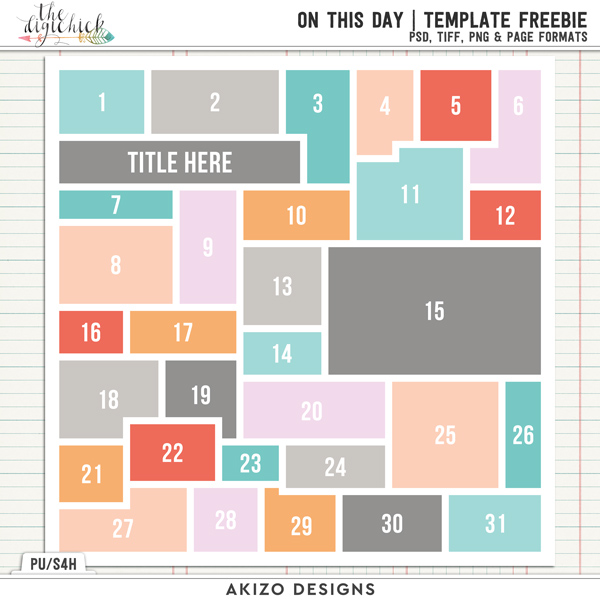 Kit: Boy With Glasses | Collection by Akizo Designs
edited——————–
The Freebie Has Expired.
配布期間は終了しました
————————–
Hi everyone! It's August and here comes DigiScrap Parade again!
The theme of this parade is [On This Day]. I hope you enjoy my template for documenting your 31 days / Photo A Day / various kinds of layout!
 こんにちは。早くも8月、DigiScrap Paradeの季節がやって来ましたね!
 今回のテーマは「On This Day」ということで、カレンダー風テンプレートを作りました。丸々ひと月レイアウトや、フォト・ア・デイ テーマや、はたまたサンプルのように好きなものをいろんな角度で撮った写真など、思うまま楽しくレイアウトしてくださいね。
Thanks for participating in the August 2016 DigiScrap Parade! If you're following the Parade route from start to finish, you should have arrived here from Blue Flower Art and your next stop will be The Nifty Pixel. If you get lost along the way, simply head back to the main DigiScrap Parade site to view the master list and get back on track

 DigiScrap Parade にご参加のみなさん、ありがとうございます!順番通りに辿っていたら、Blue Flower Art からこのブログに着き、次はThe Nifty Pixel になります。もし順番がわからなくなったら、DigiScrap Parade siteにあるマスターリストから辿ってみてくださいね

One More Freebie?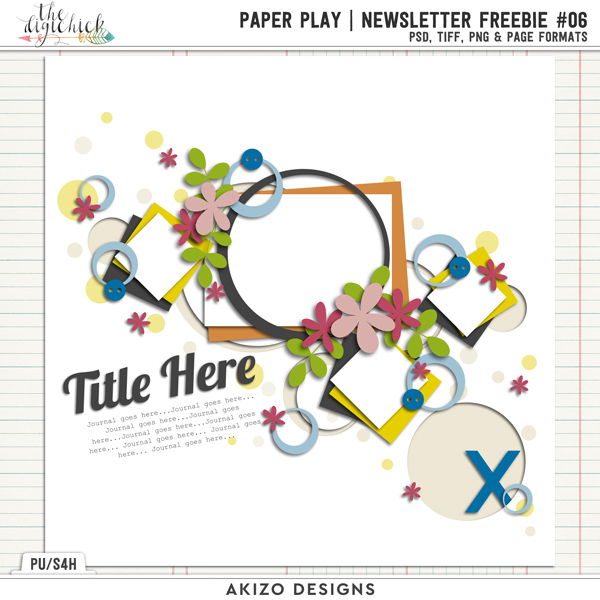 Kit: Natural Beauty | Collection by Akizo Designs
edited——————–
The Freebie Has Expired.
配布期間は終了しました
————————–
Don't forget to get the Paper Play Newsletter Freebie #06 Template from me! It's for my Newsletter Subscribers Only. Sign-up Now! (You can download it in the NEXT newsletter, so just a moment

)
 Paper Play Newsletter Freebie Template #06は、Newsletter登録者onlyのギフトです。この機会をお見逃しなく!(次回のニュースレターからダウンロードできますので、しばしお待ちください

)
Special News!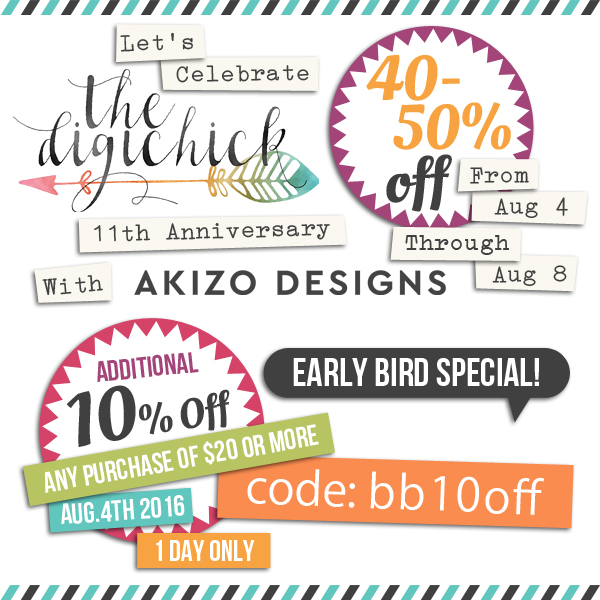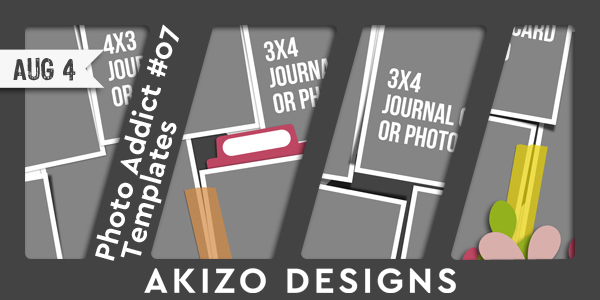 The DigiChick is turning 11! What a news! I will have 40-50% off sale from August 4th to 8th. Don't be late for our Birthday Bash

 The DigiChickは今年でオープン11周年を迎えました。それを記念して、私の店でも8月4日から8日の月曜日まで40-50% off セールを行います。この機会をお見逃しなく

Thanks for reading. Have a Happy Scrapping