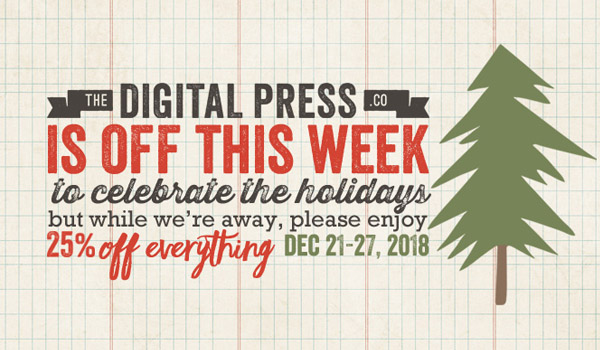 Hi there, a year goes by fast! This article will be the last post of this year. In 2018, there was a sad news that the owner of The DigiChick who passed away. I pray that her soul may rest in peace. But there was a good thing after the sad thing, I met new people in The Digital Press. It's a new beginning and there's so much to be thankful for. And Thank you very much to everyone for your kind support!
In The Digital Press, we have one week holiday break until Dec. 27th. But You'll find all of our products 25% off! Don't miss the chance to get your favorites 🙂
Wishing you have a Merry Christmas and a Happy New Year!
---
 早いものでもう年の瀬、この記事が今年最後の投稿になります。今年はお世話になっていたショップのオーナーが亡くなるという悲しいことがありました。しかしその後、新しいショップに温かく迎えて頂けたという幸運もありました。故人のご冥福を祈ると共に、新しい環境に感謝の気持ちを忘れずにいたいと思います。みなさまにも温かいお言葉を賜り、ありがとうございました。
 The Digital Pressは、1週間のクリスマス休暇となります。勿論お店24時間365日開いておりますが、カスタマーサービス(関わる心配もないと思いますが)は27日までお休みとなります。その間クリスマスセールをしていて全品 25% off になっておりますので、何か気になるものがございましたら今のうちにゲットしてくださいね 🙂
---
New Year Greetings
 最後に年賀状(2019年・平成31年・亥年)のお知らせです。
 New Year Greetings 2019は、写真を入れるだけで完成するクイックページとちょい足しパーツのセットです。The Digital Pressにて販売しております。詳しくはこちらをご覧ください。
 初めてのお買い物の際はこちらの記事を参考にしてくださいね。
 また、インプレス出版 ふぉとねんが 2019にも別デザインの年賀状が掲載されています。詳しくはこちらをご覧ください。
 私は先ほど年賀状完成、印刷しましたー!明日投函して終了です 🙂 ヨシヨシ。
 それでは、みなさまどうぞ良いお年をお過ごしください!