Hi there! It's $2 Tuesday Today! My Titled 13 | Templates, Paper Play 13 | Templates, and Ordinary Day | Quickpages are on sale for $2.00 now through midnight Tuesday 🙂
 こんにちは。The DigiChickでは月に一度「$2 Tuesday」というセールを行っていて、セレクトアイテムが2ドルで販売されます。今月は、Titled 13 | Templates、Paper Play 13 | Templates、Ordinary Day | Quickpagesがセール中です。本日限定(日本時間の水曜13時頃まで)ですので、どうぞお見逃しなく 🙂
---
Inspirations – Titled 13 | Templates

Kit: Dahlia | Collection
---
Inspirations – Paper Play 13 | Templates

Kit: Happy For You | Collection
---
Inspirations – Ordinary Day | Quickpages

Kit: Ordinary Day | Collection
Template: Torn Paper Play 03 | Templates
---
You can see more samples at Facebook, Pinterest, and Instagram. Please upload your layouts also!
 他にもFacebook、 Pinterest、Instagramにてレイアウトを見ることができます。みなさんもレイアウトを作ったらぜひギャラリーにupしてくださいね。
 初めてのお買い物の際はこちらの記事を参考にしてくださいね。
---
Freebie Challenge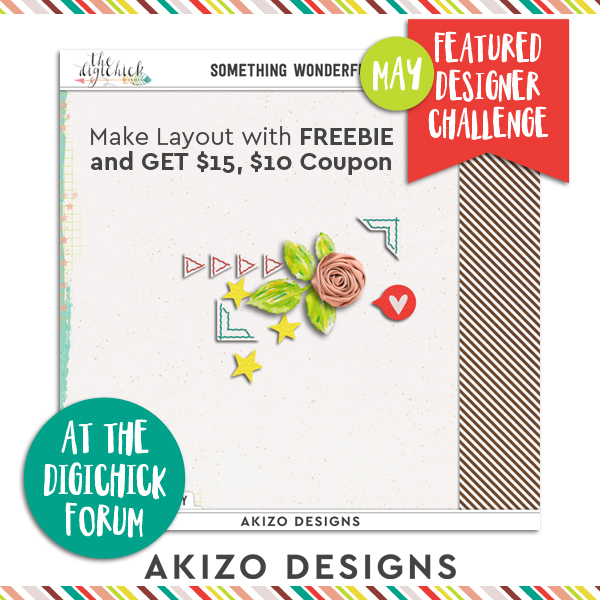 I am the Featured Designer in May! Make layout with all of the freebie + add some items to your layout if you want. Ramdom winners will get $15 / $10 coupons! If you use the Something Wonderful Collection, you will triple your entries into the random drawing! Have fun 🙂
 今月TDCフォーラムで、Featured Designer Challengeを開催しています。このチャレンジはFreebieを全部使ってレイアウトを作るというものです。お好みで別のアイテムを加えてもOKです。抽選で$15または$10クーポンが当たります。Something Wonderful Collectionを使うと、抽選にトリプルエントリー!ご参加お待ちしております 🙂
Thank you for reading and have a happy scrapping!